UK Professional Guarding Limited currently holds SIA Approved Contractor Scheme (ACS) status for the provision of Security Guarding and key holding.
The Security Industry Authority is the organisation responsible for regulating the private security industry. They are an independent body reporting to the Home Secretary, under the terms of the Private Security Industry Act 2001. Their mission is to regulate the private security industry effectively; to reduce criminality, raise standards, and recognize quality service. Their remit covers the United Kingdom.
The Information Commissioner's Office is the UK's independent authority set up to uphold information rights in the public interest, promoting openness by public bodies and data privacy for individuals.
The United Kingdom Accreditation Service is the sole national accreditation body recognized by the government to assess, against internationally agreed standards, organisations that provide certification, testing, inspection, and calibration services.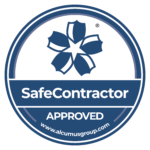 UK Professional Guarding Limited has been awarded Safe Contractor Approved accreditation, evidence of our commitment to best practice in Health & Safety.
BS EN ISO 9001:2015 sets out the criteria for a quality management system and is the only standard that can be certified. It is an internationally recognized standard that is considered a pre-requisite by most private and public sector organisations in Europe
BS EN ISO 9001:2008 requires UK Professional Guarding Limited to carefully audit our own operating procedures and hold Management Review Meetings to discuss and update our internal objectives and targets throughout the year